It's not just local debris that needs to be cleaned up after a storm hits Bermuda. Mounds of trash—originating from as far afield as Africa—are dumped on the island's shoreline every time the Atlantic is ravaged by a hurricane.
The laws of nature mean it will soon be swept back into the ocean unless clean-up crews act quickly. Volunteers from Keep Bermuda Beautiful (KBB) are among those who rise to the occasion.
Traci Burgess, the executive director of KBB, says: "Because of Bermuda's unique location in the Atlantic gyre, we are a massive catchment spot for ocean plastics and ocean pollution."
Bermuda is the only landmass in the middle of the Atlantic, so plastics float in from all over the world—the west coast of Africa, South America, the Caribbean, the Gulf of Mexico and New England. "Their plastics land here," says Burgess. "It's a problem, not only with pollution from other jurisdictions, but also with litter that is generated by local residents. We find stuff every day that comes in with the tides, or has been discarded on the roadsides, in our parks and on our beaches."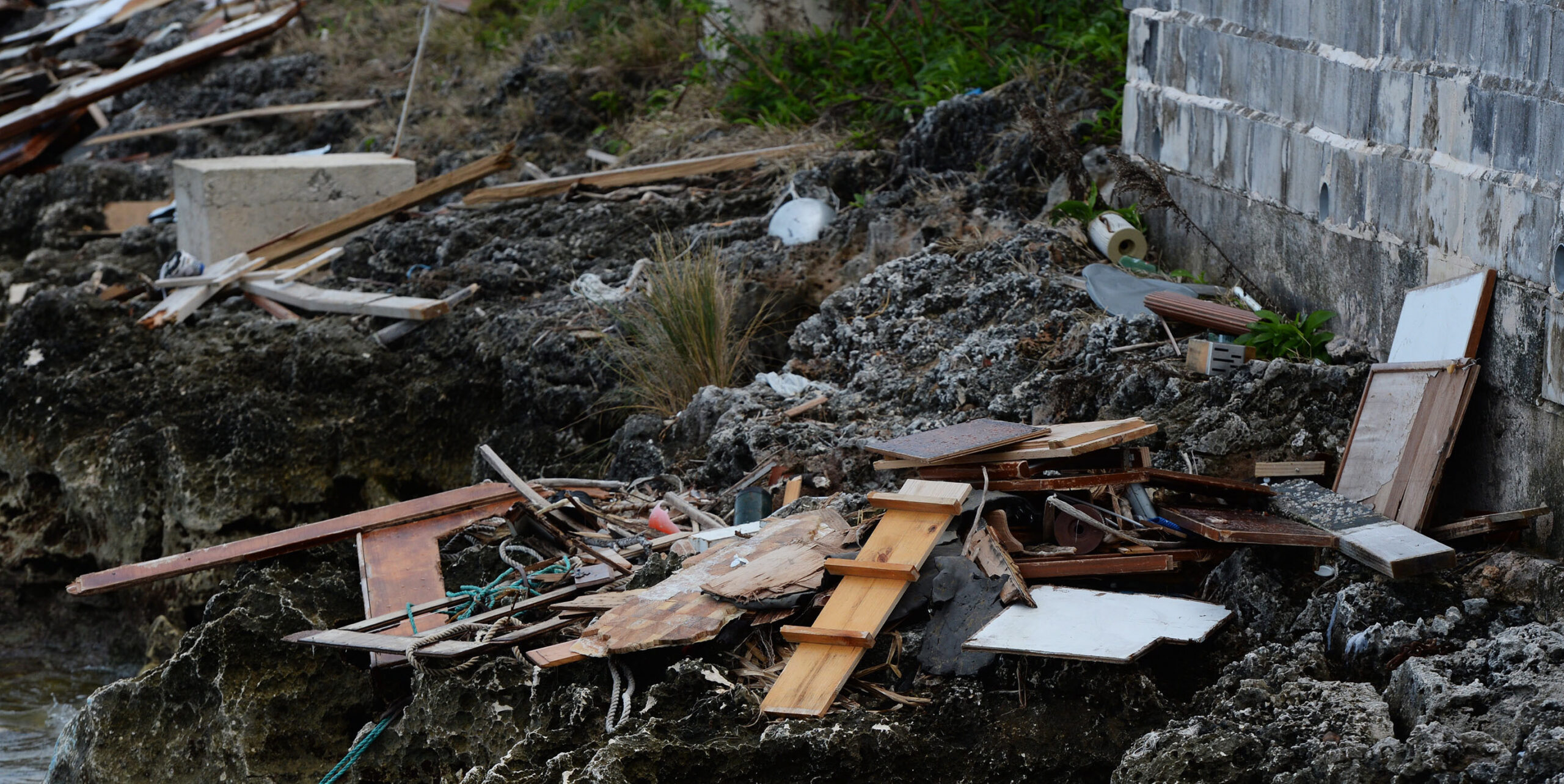 When a hurricane hits, the situation worsens. "During a storm, the ocean is churned up so much you can imagine all the stuff that washes up on the shore. If it is not cleaned up in short order, all that potential pollution could be washed back out to sea. It's a small window of opportunity for each of us to make a great contribution to combatting the ocean pollution problem."
KBB, which has more than 2,000 regular volunteers, carries out dozens of clean-ups every year, and removed more than 13 tonnes of trash, recyclables and bulk waste from public spots in the first half of 2022. Ocean pollution is harmful to the marine environment, sargassum and fish, as well as to humans who eat marine animals that have consumed tiny particles of plastic.
"By doing regular clean-ups, KBB and our volunteers are proactively contributing to lessening the impact of post-storm trash," Burgess says. "The more trash, litter and debris we can remove from the coastline and parks, every single day of the year, the less there's going to be potentially to clean up after a major storm."
After a storm, KBB volunteers participate as individuals and in group clean-ups. Trash found on beaches ranges from small items such as empty bottles and plastic bags to giant mattresses and large fish tanks.
"KBB will typically send a post-storm email to our subscribers, first checking on everyone's safety, then raising a call to action," says Burgess. "We suggest that individuals clean up their own house and help their friends, family and neighbours, especially checking on the elderly and most vulnerable. Start there. In doing that, people are already contributing to cleaning up. Once it is safe to do so, KBB volunteers are asked to check on their adopted spots, parks, beaches and start cleaning up."
In addition to clean-ups, the organization educates and raises awareness on environmental issues and takes on projects such as Beyond Plastics, in partnership with the charity BEST, and the Abandoned Boats Project, a joint initiative with the Bermuda Government.
"Huge kudos to the volunteers, donors, supporters and project partners. That's not just the post-storm clean-up teams, but everyone involved with KBB," Burgess says. "A lot of our volunteers are passionate about caring for the environment, and protecting and preserving our natural surroundings.
Bermuda's eco-system is fragile and delicate. It's part of KBB's mission to help more people understand the negative impact litter is having on Bermuda, both on land and sea. "We see the consequences every single day and we are striving for change."
KBB provides the following tips to help limit the environmental devastation of a hurricane before a storm:
Do not leave your trash bins and bags out on the curb if the hurricane is going to hit on your designated trash collection day. Bring it back to your house or, if you can, take it to the Tynes Bay Public Drop-Off.
Take a look around your house and make sure to stow away anything that might blow away during a hurricane.
Secure awnings, tarps, patio umbrellas or anything that might fly away in high winds. Not only will you lose these possessions, but they will end up in the ocean potentially causing harm to marine life.
Keep tree branches trimmed near power lines so that you and your neighbours are less likely to lose power during a storm.
Make sure your boat is secure well in advance of approaching high winds and storm surge.
After a storm, KBB advises taking quick action to help clean up debris at your house and in your neighbourhood:
Pick up any litter or debris around your house and on your street in front of your house.
Assist others in your neighbourhood.
Volunteer to help clean up a public park, dock or stretch of road.
Be cautious of any live power lines that may be down, and report them to Belco.
Check on your boat.
You can help KBB by becoming part of its Adopt-a-Spot programme. Spots include public beaches, parks and the Railway Trail. Sign up by visiting KBB's website at kbb.bm or calling 799-5142. Even if you're not registered for an event, you can still help.
"It might be your favourite beach or park. Take a few minutes or an hour when it's safe or convenient to do so and conduct your own individual clean-up," Burgess says. "Every little bit, from each person or little group, can contribute to making a significant impact."
KBB can provide clean-up supplies, black trash bags, blue recycling bags, gloves and litter grabbers. Burgess adds: "KBB is grateful for the contributions of all our volunteers and programme partners, including the Bermuda Government, Waste Management and Parks Department, schools, all our corporate partners and donors. "Through all of their contributions, they are helping to Keep Bermuda Beautiful."